Evergreen Impact Housing Fund, Inland Group, and Partners Break Ground on Large-scale Affordable Housing Development in Pierce County

July 20, 2023
SPANAWAY, WA — Evergreen Impact Housing Fund (EIHF) and Inland Group are proud to announce the start of construction on Copper Way, an affordable housing development in Spanaway, Washington. The project is expected to open in late 2024 or early 2025 with 256 apartments for low-income residents. This is the first project in Pierce County to benefit from EIHF's innovative model of financing. 
"We are thrilled that Copper Way has broken ground," said Kris Hermanns, fund manager of EIHF at Seattle Foundation. "It's crucial that we take action to bring affordable housing to Pierce County and beyond. Families with modest incomes are too often priced out of the Puget Sound. These folks work hard in our communities—as teachers, health workers, store clerks and more—and EIHF's financing helps ensure they can live here."  
Copper Way is the second EIHF project supported by a consortium of Washington State credit unions, including BECU, WSECU, Sound Credit Union, and Verity Credit Union. EIHF uses low-interest, long-term loans to fill financing gaps and make affordable housing projects possible. The first credit union backed EIHF project, Solera, is expected to open to Renton families in 2025.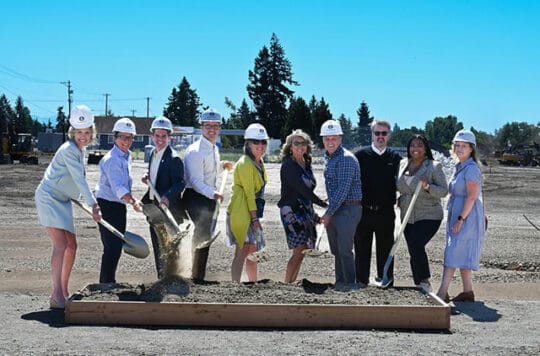 "We are pleased to expand our partnership with Seattle Foundation through the Evergreen Impact Housing Fund. Joining together to support affordable housing projects like Copper Way embodies the people-helping-people spirit of credit unions," said the collaboration of credit unions in a joint statement. "Our work is not just about taking care of our members; it's also about taking care of our communities. The best way to make progress on addressing Pierce County's housing challenges is through innovative partnerships like this one. As credit unions, we're proud to be a part of it." 
Representatives from EIHF, the credit unions, and Inland joined local leaders for the groundbreaking of Copper Way earlier today. This multifamily community will be located at the intersection of Mountain Highway East and Pirnie Street close to stores and a Bus Rapid Transit line. 
Once complete, Copper Way will comprise 256 garden-style apartments. While many urban apartment complexes are too small to accommodate families, 81 percent of Copper Way's units will have two or more bedrooms. All units will target people earning 60 percent of the area median income or less, approximately $64,500 for a family of four. 
"Copper Way wouldn't have happened without the support of our partners at EIHF and at the state and local levels," said Darin Davidson, President of the Inland Group. "The Inland Group is proud to join the Spanaway community and be a resource for local families who are working hard to build a better life."
As housing prices continue to skyrocket, the need for affordable housing is increasingly apparent. EIHF has worked closely with the Washington State Housing and Finance Commission to meet funding gaps and provide more accessible housing options. EIHF shows the innovative ways in which public and private capital can come together to create housing solutions. 
---
ABOUT EIHF: Evergreen Impact Housing Fund (EIHF) provides catalytic impact capital to build more affordable apartments in Washington State. EIHF's investments are designed to ensure financial feasibility of projects, counteract market distortions, complement established financing for affordable housing, and advance positive outcomes for Black, Indigenous, and People of Color communities. 
EIHF is managed by the Seattle Foundation Impact Funds Manager and partners with the Washington State Housing Finance Commission to identify and invest in 200+-unit projects. EIHF is closely aligned with Seattle Foundation's aims to advance racial justice and economic equity in our region through transformative capital. Learn more at https://evergreenimpact.org/.