Sound Credit Union Names New Chief Operations Officer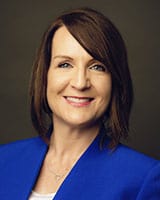 (TACOMA, Washington – July 10, 2018) Sound Credit Union has named Wendy Cleveland as its new Senior Vice President and Chief Operations Officer. Cleveland brings more than 23 years of credit union experience in a wide range of leadership roles, including management of branches, contact center, lending, digital channels, payments, marketing, public relations and business development. Cleveland most recently served as Senior Vice President at AltaOne Federal Credit Union where her strategic guidance led to system improvements and profitability gains.
"We are excited to have Wendy join our team at Sound. Throughout her career she has served in various leadership roles," said Sound Credit Union President/CEO Don Clark said. "We believe her past experiences will prove to be invaluable to our membership, employees and community. Wendy is a fantastic addition to our executive team as the Chief Operations Officer."
A few key responsibilities of the chief operations officer include the day-to-day operations of the credit union, overseeing the member-facing and back-office support programs for the organization, management of credit union growth strategies, and supporting the President/CEO in the overall management of the credit union. This year, Cleveland expects to focus on optimizing branch performance and identifying mid-and long-range opportunities.
Sound Credit Union was founded in 1940 and today is one of Washington State's largest credit unions. With several dozen full-service branch locations throughout the Puget Sound area, Sound provides their nearly 130,000 members with authentic and trusted financial support and services. Sound is driven by the purpose of standing with members, employees and the community through all waves of life.