Sound Credit Union Names New Chief Retail Officer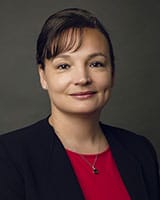 (TACOMA, Washington — July 10, 2018) Sound Credit Union has named Charlene Henson as its new Senior Vice President and Chief Retail Officer. Henson brings more than 23 years of credit union industry experience to her new role, including experience in retail operations, mortgage lending, account resolutions and operations support. Most recently, Henson served as Sound's Vice President of South Region Branches.
"We are pleased to have Charlene join our executive team as our Chief Retail Officer. Her proven leadership and experience will continue to be an asset to
Sound," said Don Clark, President/CEO of Sound Credit Union.
The chief retail officer oversees all retail branches and the credit union's Contact Center. Henson expects to focus on process efficiencies, staff development and branch initiatives this year.
Sound Credit Union was founded in 1940 and today is one of Washington State's largest credit unions. With several dozen full-service branch locations throughout the Puget Sound area, Sound provides their nearly 130,000 members with authentic and trusted financial support and services. Sound is driven by the purpose of standing with members, employees and the community through all waves of life.