Diversity, Equity, and Inclusion
Diversity, Equity, and Inclusion
Sound Credit Union was founded in 1940 to provide financial resources to underserved Washingtonians. More than 80 years later, we remain rooted in our original purpose. Whether its buying a dream home, a first car, or simply saving for rainy days, Sound Credit Union exists to:
Stand with members, employees and our community through all waves of life.
Commitment to diversity, equity and inclusion
Sound is committed to leveraging our core values to foster and maintain wellness, diversity, equity and inclusion for employees, members, and the communities we serve.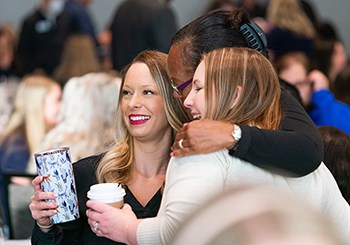 Cultivating Diversity In-Action
Employee-Led Committee
Our employee committee helps create a welcoming and inclusive environment for all individuals, regardless of race, ethnicity, gender, sexual orientation, religion, and other individual differences.
Growing a Diverse Team
Sound is continually reflecting and enhancing our hiring and employee development programs to attract and retain a more diverse team. When diversity is celebrated, equity is maintained, and inclusion is promoted, benefiting everyone.
Aligned with Strategy
Growing Sound's wellness, diversity, equity and inclusion practices are a intentional business strategy. Just like our corporate strategy is a fluid process, a journey, so is our evolution and learning how WDEI is woven into the fabric of our workplace and experiences with members everyday.
Careers for Everyone
We believe creating a workplace where all voices are heard and appreciated is crucial to our success. The work of building a truly diverse, equitable and inclusive workplace is never finished.
Seek a career
where you
belong.
You joined us in making our community better.
320+
Local organizations received $400k+ in donations and sponsorships from Sound.
$55k+
Combined contributions to local food banks equaling over 280k meals.
40
Favorite charities chosen by our branches and departments.
$20k
College scholarships awarded to 13 Sound members to pursue higher education.
---
Together, we make a positive impact in the community we share.