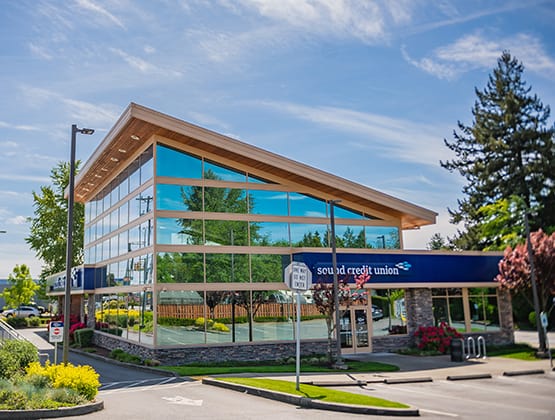 Your Burien Credit Union Branch
Brought to you by Sound Credit Union
Your Burien Credit Union Branch
Brought to you by Sound Credit Union
On Ambaum Blvd and 148th St, across from Walgreens
Sound's Burien Branch is one of several dozen full-service Puget Sound locations offering reliable and trusted solutions for your personal or business finances including checking and savings accounts, investment services (available through CUSO Financial Services, L.P.), refinancing, home equity loans, business accounts, credit cards and more. Plus, find all the ATMs, apps and digital tools you need for life on-the-go, or on your couch.
Address
Burien Branch
14647 Ambaum Blvd SW
Burien, WA 98166
Hours
OPEN BY APPOINTMENT ONLY
(253) 280-3810
Monday – Friday 9am – 6pm
Saturday 9am – 1pm
Services
Shared Branching
ATM – deposits, withdrawals, drive-up, 24/7
Drive-Up Banking
On-site Investment Advisor
Self-service coin counter
Safe Deposit Boxes
Notary
Features
Free parking
Kids area
Fun Facts
Hospitality House
Our charity of choice
What we love
Our supportive team environment
152nd St, Downtown Burien
Favorite place for a midday walk
Eat Time
Favorite place to grab a bite
Meet the Staff
Call

253.284.8253

Email

scox@soundcu.com

NMLS

#803957
Your home is one of the biggest purchases you'll make. Together, we'll help you find the right mortgage for your dream home.
Call

253.260.7712

Email

abloom@soundcu.com
Whether you're applying for a loan or have a quick question, our Business Loan Officers are here to help.
Call

253.597.7604

Email

jtharp@soundcu.com
Whether you're opening a Business Checking or have a quick question, our Business Services Officers are here to help.